News
---
"Engineering Hours"
Please see the schedule below and mark your calendars for the School of Engineering and Technology "Engineering Hours" that consist of student presentations, from 11 am to noon, and discussions with invited guests from noon to 1 pm! These events are held on selected Fridays in Room 404 in the Olin Building.
During the Spring 2017 semester, the "Engineering Hours" will be held on February 3, February 17, March 24, April 7, and April 21.
Congratulations to Wesley Page!
We are delighted to report that Wesley Page, '86, who graduated from our Architecture program, has been made a Fellow of the American Institute of Architects, the highest honor bestowed on its members, for his contributions to the profession. Wes is a principal at the Hanbury practice (http://www.hewv.com), which, in turn, has been a strong and consistent supporter of the SET Architecture program. Read more »
Department of Architecture Faculty Member Receives National Appointment
The American Institute of Architecture Students Board of Directors has appointed Department of Architecture professor Dr. Carmina Sánchez-del-Valle to serve as the Liaison with the Association of Collegiate Schools of Architecture (ACSA) for a two-year term. Since July 2016 she has attended four BoD meetings and two national conferences where she has met students and faculty from the U.S. and abroad. The AIAS is the largest architecture student organization in the United States with chapters in high schools, community colleges, and universities in the U.S. and internationally. Read more »
Congratulations to Dr. Rhonda Jack and Dr. Courtney Mitchell!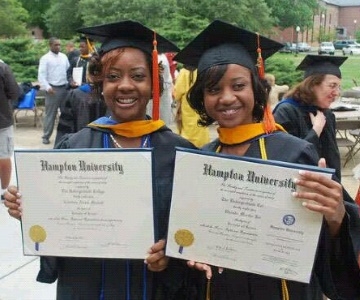 Hampton University's Department of Engineering is well on the way to becoming the #1 producer of African American undergraduates who continue their education to attain Chemical Engineering doctorates. The U.S. produces roughly 4 to 5 black female doctorates in Chemical Engineering every year (

NSF Statistics). The Hampton University School of Engineering and Technology is the baccalaureate origin of two black female Ph.D. degrees in Chemical Engineering during the 2016 calendar year, Dr. Courtney Mitchell and Dr. Rhonda Jack. Read more »